Welcome to inLOVEwithALBANIA.com
---
Receive detailed information on places to visit, beaches, restaurants, where to stay and lots of other great tips to maximize your trip to Albania.
Albania is an untapped travel destination with a lot to offer including clear water beaches, picturesque mountainous landscapes, farm to table food, culture, and history.
Are You Traveling With Children?
Learn more about how to be prepared for your trip to Albania with your young ones.
---
Food
---
Albanian food is fresh, farm to table and organic. Check out the food section for information on the most interesting restaurants and eateries across Albania.
---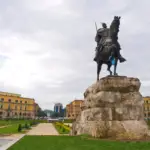 Travel Tips
Be prepared with the latest information on how to plan your trip, flying to Albania, where to stay, car rental, public transportation and traveling with children.
About
---
My name is George, I grew up in Massachusetts. I had never left the country until I was 33 years old. In 2008 I met the love of my life though a mutual friend at work.
The first time I visited Albania was in September of 2010. I was immediately intrigued by the culture, the fresh food, the history and the language.
Receive helpful tips to maximize your trip to Albania and Visit Like A Local!